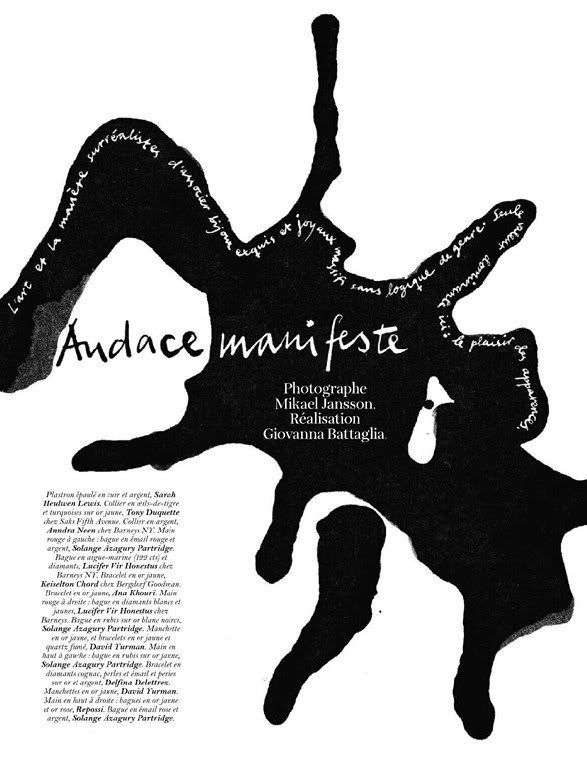 ah yes.. 'audace manifeste', an editorial from carine's last french vogue. bye, bitch! (just kidding)
i am so obsessed with this. generally, i'm not too involved in many editorials but this one hits the spot. i could look at it all day, but that's the effect that mikael jansson has. the shot of arizona muse in the feather mcqueen dress and holding the crystal ball instantly became my phone background, replacing a photo of michèle lamy, styled by carine roitfeld and shot by steven klein from the november 2010 issue of french vogue. i still love that editorial, michèle looks so lurid.
i'm absolutely loving the grey dip dyed hair on missy rayder, i'm shooting for a similar color in a more ombre style for myself.
giovanna battaglia's use of jewelry embraces an elsa sciaparelli feel; the layering of necklaces, the insects and reptiles, and the overall glitz is a reminder of the legendary work she's done.
the black and white shot of missy with the third eye painted on is in the vein of alejandro jodorowsky's holy mountain, and the eyes painted on arizona's eyelids is to jean cocteau's blood of a poet.
the distorted shot of arizona is an obvious take on dalí's 'persistence of memory', what with the clock and warped to the point where it looks like the dress melts off an edge by the bottom of the photo.
the last shot is so familiar to me, the eyes, the prominent male and female symbols.. i can't quite put my finger on it yet...
anyway. enough about that.
i should be getting ready for sxsw!